Not much to share for Yarn Along this week.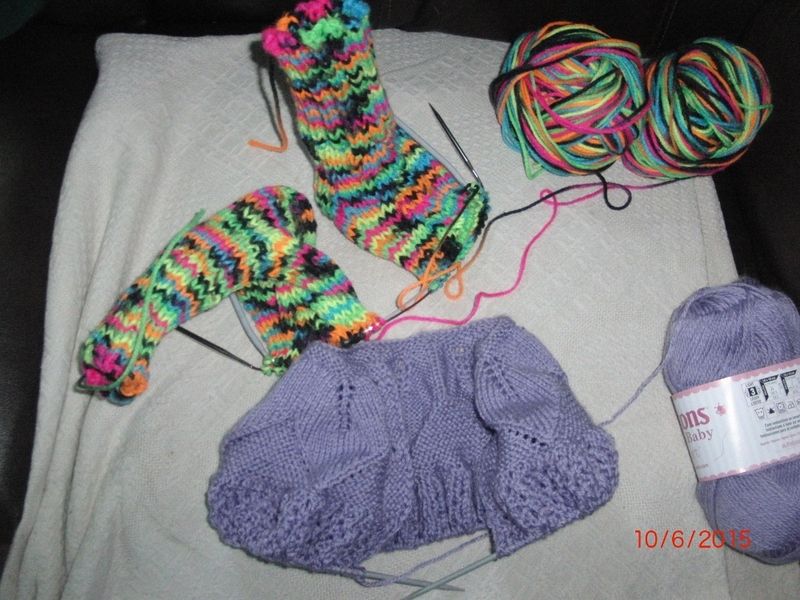 I will be really glad to be finished these
slippers
. My wrist has been really sore and I think it's these slippers. Thick yarn at funny tensions irritate my hands.
Got some more work done on the
Leaf and Lace sweater
. I think the thicker yarn is working up well. Can't really take any measurements until I divide for the sleeves, which should be soon.
Did I tell you about the sweater before? As usual, my poor, unsocialized child (ha ha) has friends at basically every store we go to. Bulk Barn is no exception. In fact nearly all the ladies there make such a fuss over her. Well, one of the young girls there is just about as chatty as Ella and they have been great friends for years now. She even has some food allergies and was able to talk with Ella and sympathize with her. Well, we've just found out she's having a baby girl. So I'm making my very favourite baby sweater. It's usually made out of fine baby yarn and only fits 3 mos. Well our friend is very tall and it's unlikely her baby will be that small. So I'm trying to use the pattern with sport sized yarn and aiming for 6 mos. size. The baby isn't due until August, so I need a sweater that will fit for a few months until it's cool enough.