Happy 1st of December!!! The house is starting to look like Advent. Our calendars are full of chocolate and our Advent tree has it's first decoration.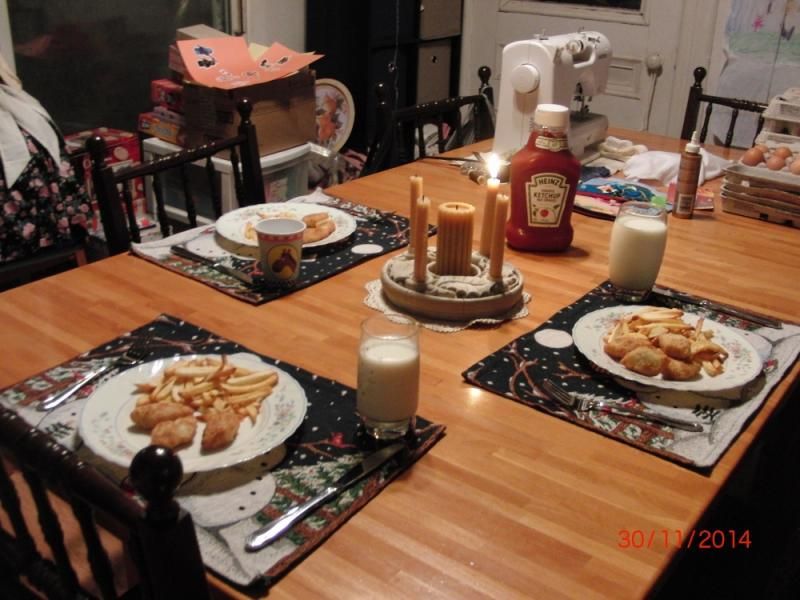 Our Advent feast for St. Andrew last night. We were lucky and spent the first Sunday of Advent at our favourite church in Ottawa. Ella also had her interview with Father and passed with flying colours. She's going to receive her First Communion in 2 weeks. She's very excited.
The Christmas Countdown for week
six
finds us wrapping things up. The house is clean and presents are well in hand. I wish I had more space for organizing because I have a terrible feeling that I don't have enough for Ella. And I just realized I don't have the custom
calendars
ordered yet. Must do that today.
Right now I'm trying not to interfere out in the kitchen. Ella was playing with flour and water and such and has decided it was pancake batter. So she's out there frying up some pancakes for her lunch. I'm afraid to see what the kitchen looks like.
So what's to eat this week?
wieners and beans
perogies
oatmeal pancakes
shepherd's pie
panzerotti
grocery night so likely out
macaroni and cheese (my recipe)
leftover shepherd's pie
perishky
sweet and sour pork (didn't make last week)
leftover sweet and sour pork
roast beef