Hurray Yarn Along again! I love seeing what everyone else is working on. Last week Ella decided that Olivia (her American Girl doll) needed a Christmas stocking (at least she didn't decide they ALL needed stockings). So what did I do -knit her a
stocking
of course. I found a great free pattern on Ravelry and knit it in worsted instead of fingering. The size is perfect. The pattern is also very similar to Ella's Christmas
stocking
. Ella loves to match. I changed the pattern a bit and did my usual style heel.
I finished the
TARDIS socks
. Wow, knee socks work up so quickly in DK! I was also very surprised at how little yarn they took. Needless to say I have a LOT of TARDIS blue Astra now.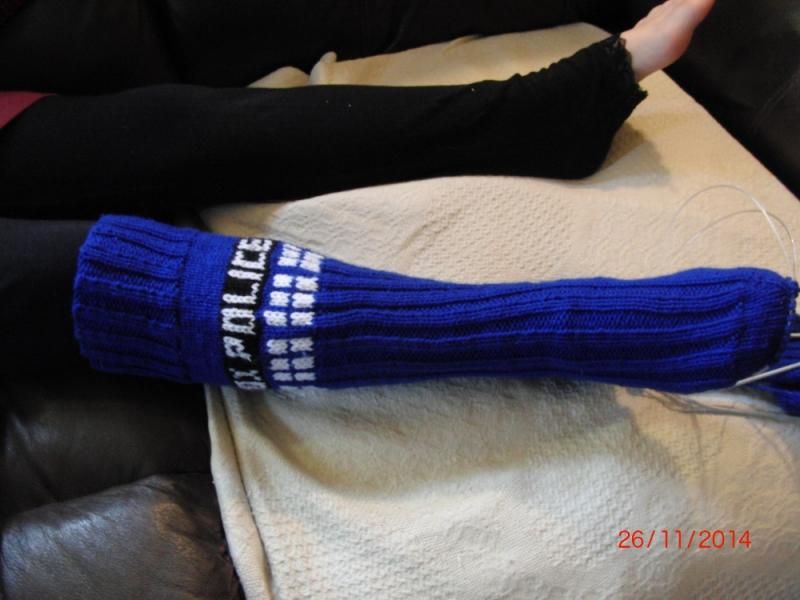 See, they may have an odd shape when just laying on the chesterfield, but one they are filled out they look great.
A bit more work on Ella's
sweater
. Mostly this is just a better picture of the cables. Every where I take this knitting people comment on the pretty colour. Ella made a good choice.
Can you guess what the item in the top corner of this picture is? Yep, I couldn't control myself and I've started the
gingerbread house
. I'm so weak when it comes to starting new projects.
I've been doing some work on Ella's
afghan
too. I think 2 more rows should be just about enough. I know what a pain it is to have an afghan that's too small. So I'm making sure to make Ella's the right size.
Sorting and planning and getting our Advent reading ready. So hard to believe it starts on Sunday!