Ginny
isn't hosting Yarn Along this week as she grieves the loss of a dear friend and her unborn child. Please take a moment to send up some prayers for all of their family and friends.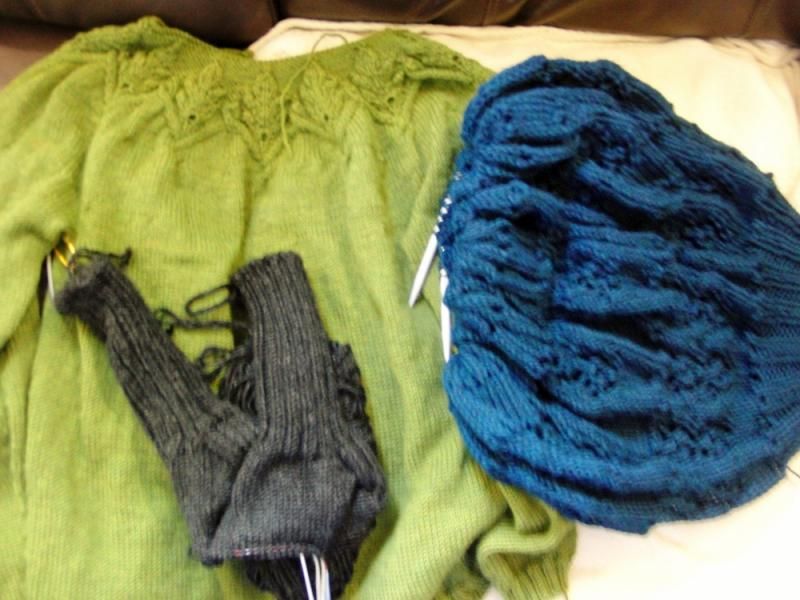 Lots of knitting this week. The
sweater
is done (the basic knitting part) and is now waiting for me to find the courage to cut open the steek and work the button bands. I've also got quite a bit of Daddy's
socks
done. The heels are turned and now I'm just working on the foot part. My favourite knitting designer came out with a new
poncho/shaw
l pattern. I'm making one for Grandma (Mom). I think she will enjoy wearing it at home. Her shoulders often get cold in the evenings and that makes the arthritis ache. This pattern is knitting up so quickly. Obviously I couldn't take it on holidays with me (since Grandma came along) so it's progress stalled a bit. I'll finish it soon.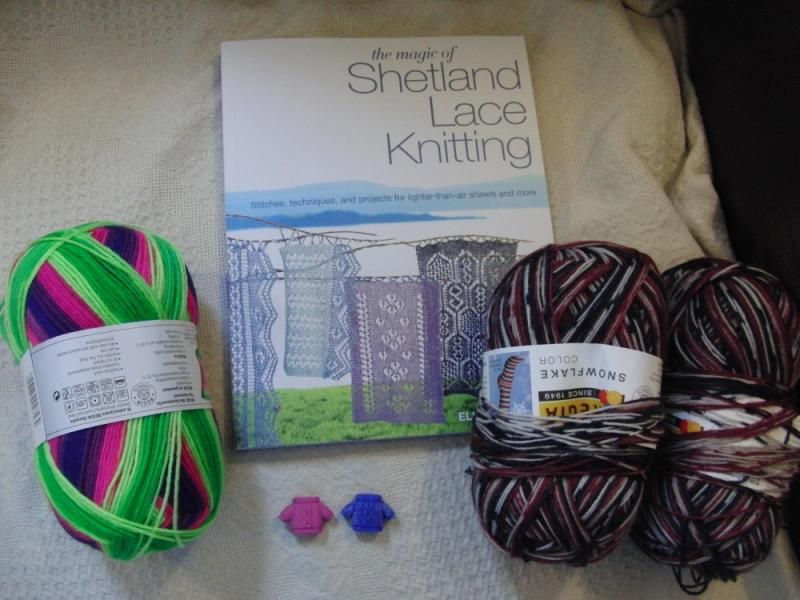 While on holidays I found a new
yarn shop
(giant surprise). Lots of great yarns but I made myself behave and only bought a couple -besides, one isn't for me so doesn't count, right?? The
Regia Snowflake
is for me for some knee socks. It makes a really nice 'fair isle' without all the hassle. As you can see I've already unwound the balls and am very happy to say the balls match almost perfectly. I won't have a hard time making sure the stripes match. The
bright yarn
is another Regia label. They will be for Ella. I can't believe how toned-down the yarn is in the picture. In reality the greens are day-glo and will look wicked-cool in black light. I'm hoping there is enough for knee socks.
I also treated myself to a new knitting book,
The Magic of Shetland Lace Knitting: Stitches, Techniques, and Projects for Lighter-than-Air Shawls & More
. I've seen this one online, but just couldn't decide if it was any good. And it is! This book is great if you like lace. It will solve my latest yarn problem. I got some
lace
weight yarn to make this
stole
. I was so eager to get started. But it quickly turned to disappointment. For some reason I just couldn't knit it properly. Every row needed to be knit a couple times to get it right. I also wasn't that happy with how it was turning out. But that leaves me with 1600+ yds of lace weight yarn, not a size I usually use. But now I have lots of ideas.
Oh yeah, notice the little silicone sweaters at the bottom of the book? They are needle holders. They hold 4 double pointed needles (or 2 circulars). How cute are they??