Yarn Along
again this week. I know February is a short month, but my goodness how is it the end of the month already??
Remember
Colin's slippers
from last week? Well, I'm so frustrated with them that I let myself be distracted by starting Ella's
afghan
.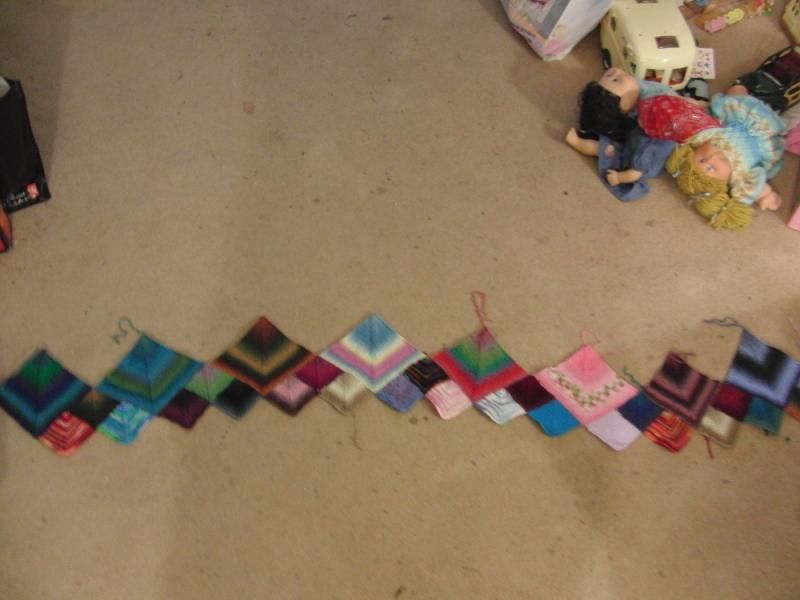 Sorry for the blurry picture, I took half a dozen and couldn't get the camera to focus on the afghan not the floor. The majority of the yarn is
Prism
by Mary Maxim. Grandma Isobel got Ella the full range of colours (except black) last year for Christmas. I'm not sure how I stumbled onto the pattern. I was blog hopping last week and found
Shelly
at Heathen Housewife. Let me state right now, though I love her pattern I think she is insane for making it in sock yarn! Luckily the pattern works for any size yarn you want. I'm making
Ella's
at 23 sts over 4 inches. That way I can use DK and sport sized yarn. Now to try to find enough cool coloured yarns. The pattern takes literally 5 seconds to learn. And when you are done, you are done. No pieces to sew together. And if you are smart you can sew in the tails as you go along too, so that's not overwhelming either. Shelly finished her blanket with i-cord. I'm not that big a fan of i-cord so I won't do Ella's that way. Maybe I'll just crochet a border.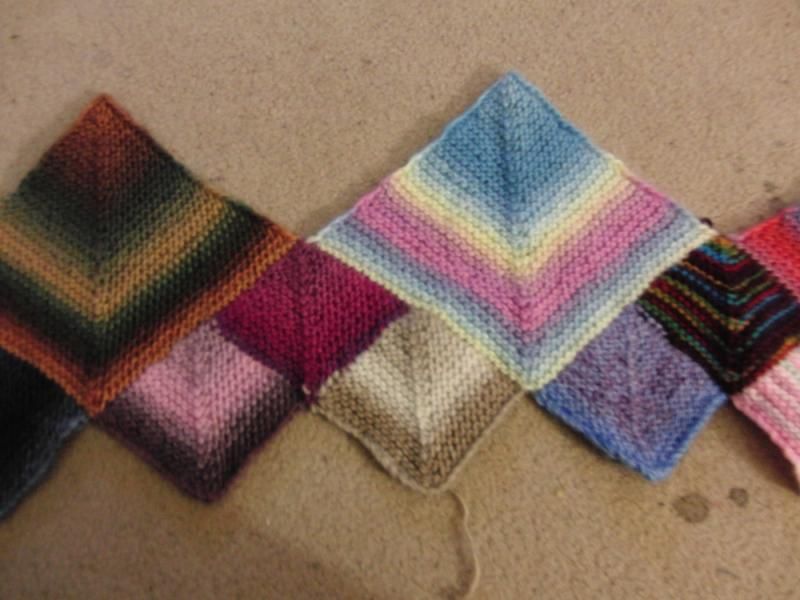 Here's a close-up, please ignore the carpet. My MIL was crazy putting off white carpet in a farm house. Can't wait until Colin puts in the wood floor (laminate likely).
Ella's very best friend Alex is having a birthday party this weekend. It's Ella's first sleepover (though we all know no sleeping goes on). To go with the things we bought, I made a
dolly dress
. Alex has a
Maplelea
doll, much like Ella's American Girl doll.
Wow, this cold going around really packs a punch. Monday I was so sick I sent Ella home with Grandma (since Colin was away) and just sat on the chesterfield the whole day. I didn't even pick up my knitting needles! Luckily the dress is a quick knit and I finished it up yesterday. I am happy to report I feel so much better today (and Colin made it home safe last night).