We are into the full swing of Ella's social schedule. Ella's back at school after the cold that wiped her out last week (and now is infecting Colin!). She's still terribly stuffy, but feels so much better. Figure skating started last Friday and is 2 days a week. She's

full-time

in Future Stars this year. Swimming continues for a few more weeks. She's doing so well there. She needs to remember her Guide book next week and maybe she can earn her Guide swimming badge. And finally, speaking of Guides we started back last week. And boy, do we have a busy schedule at Guides too.
As if I didn't have enough on the go, I got a case of startitis and started some new knitting projects.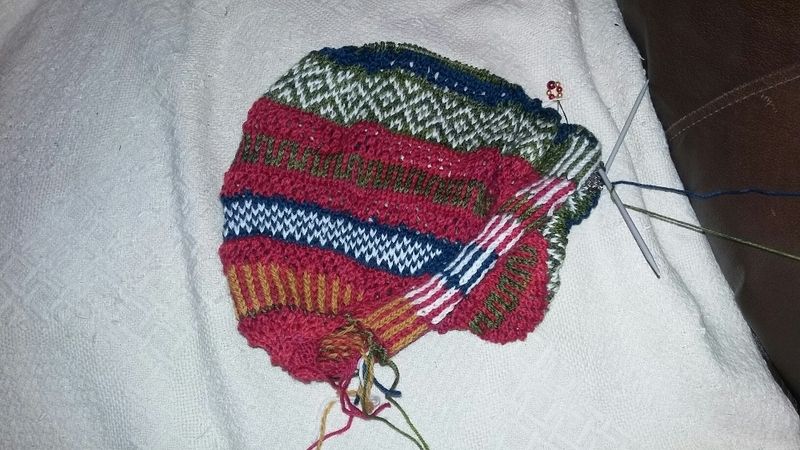 I've started a really cool, beautiful fair

isle
shawl
. You may wonder about the weird white (mostly) stripes. That is the
steek
. It's an easy Northern European technique to turn any knitting into circular knitting. It's crazy to

try to

do stranded knitting from the purl side. It is so much easier to work it from the 'front' or knit side. It really helps with the tension too. I can't believe how quickly it's knitting up. I really like doing fair isle, I need to find some more projects.
Ella and I have just started
The Secret Garden
. One of my favourites. I have the one illustrated by Tasha Tudor. Ella says it's very boring, but I told her she just has to wait till they are done setting the stage. I hope she likes it once we get Mary settled at

Misselthwaite

Manor. When we're done with the book, I have the newer version on

dvd

. I know she will enjoy that version.
What have we been eating this week?
freezer sandwiches
spaghetti
pizza
leftover Swiss steak
roasted tomato soup
beefy rice casserole
-will have to eat at

McD's

because I have an early Guide meeting before the meeting
pizza
Caesar salad
leftover casserole maybe I'll make some French fries with some of our new potatoes?
sweet & sour meatballs