Just a couple things this week for
Yarn Along
. The last couple things for the Advent swap. I still have two things to make, but those are sewn not knitted (though I'll share them with you guys any way). And actually, I forgot to put the snowflakes in the picture. I'll take a picture of them when I get them starched.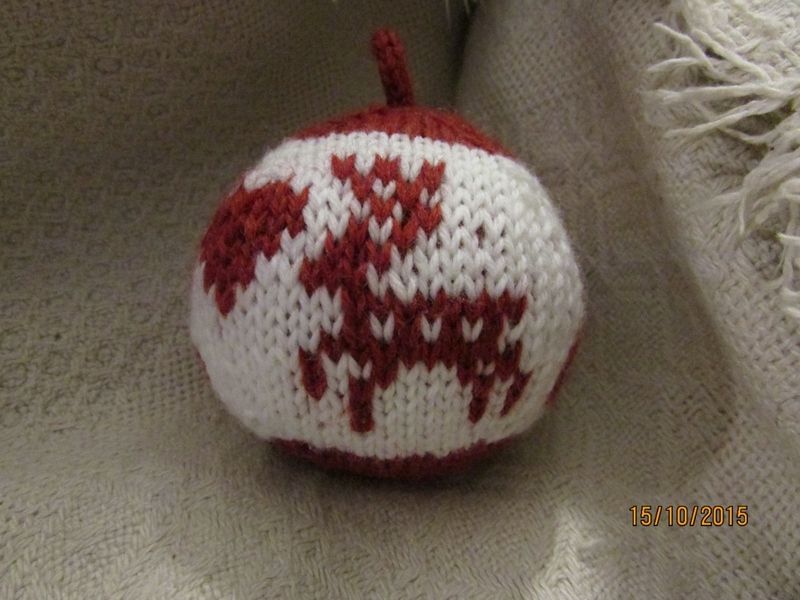 One knitted
Christmas ornament
. I used fingering sized yarn (and the appropriate needles) instead of the DK used by the pattern.
Then I got to work on some
mittens
. You are probably wondering why I switched to mittens when I still need things done for the swap. It's because the mittens need to be felted. If I'm going to use the machine to felt things for the swap then I might as well make use of all that hot water and have the mittens ready to go to? Besides, you never know when we're going to get snow and I like to be prepared.
Ha! 'Be prepared', that makes a good segue for this next paragraph. It's the motto for the
Girl Guides of Canada
and that's what I've been reading this week. I think I've mentioned before that I am one of the leaders for Ella's Guide company. Well, this week has been trying to figure out the program (need to get the girls through in 3 years). The biggest problem has been trying to figure out what our second and third year girls have already done. There are no records so I've been trying to 'decipher' their badge sashes. I think I've got them all figured out and the record sheets ready to go.