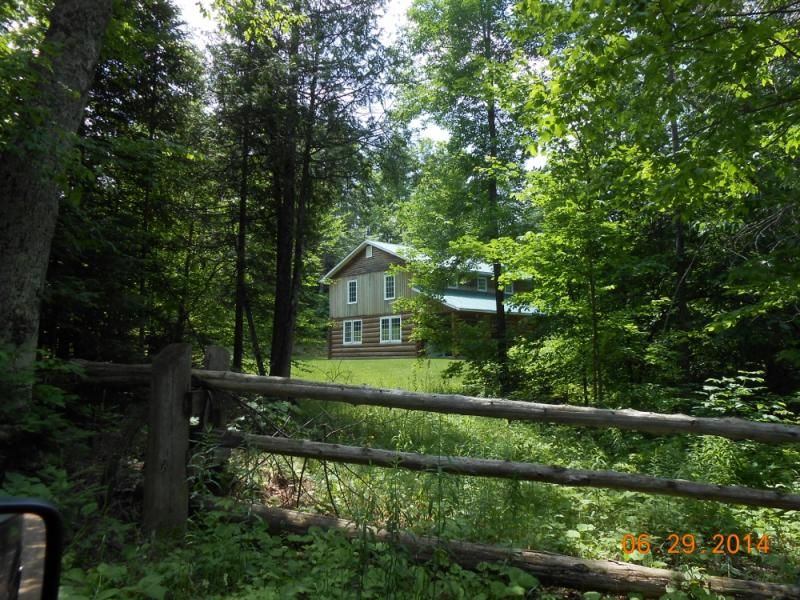 Off to our usual cottage escape in the hills around Killaloe. We always take the bigger cottage when we bring Ella. It has a TV (for rainy days) and has more play space for days we can't get to the beach. This cottage is bigger than my house!! And shows how much calmer our house would be if I could get my addition and we weren't on top of each other all the time.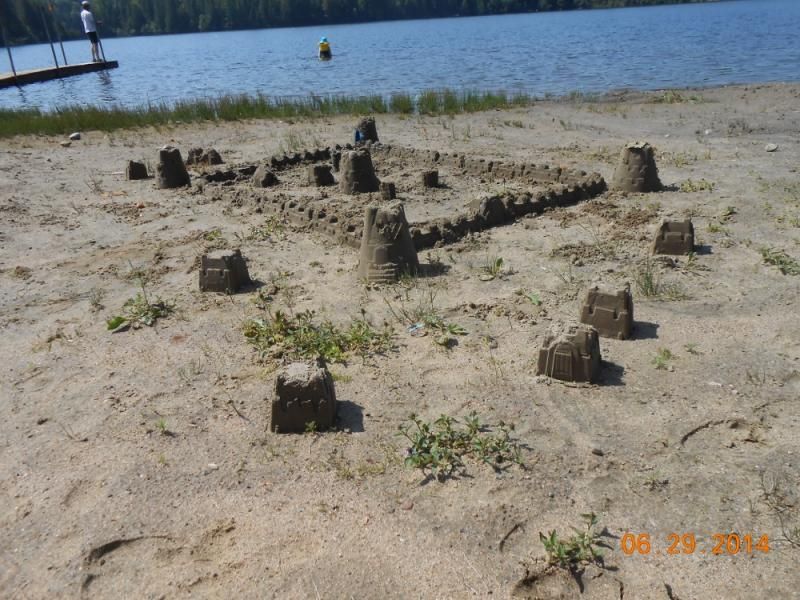 Once we had the food unpacked it was straight to the beach! Every year Ella and Daddy build a bigger and better sand castle.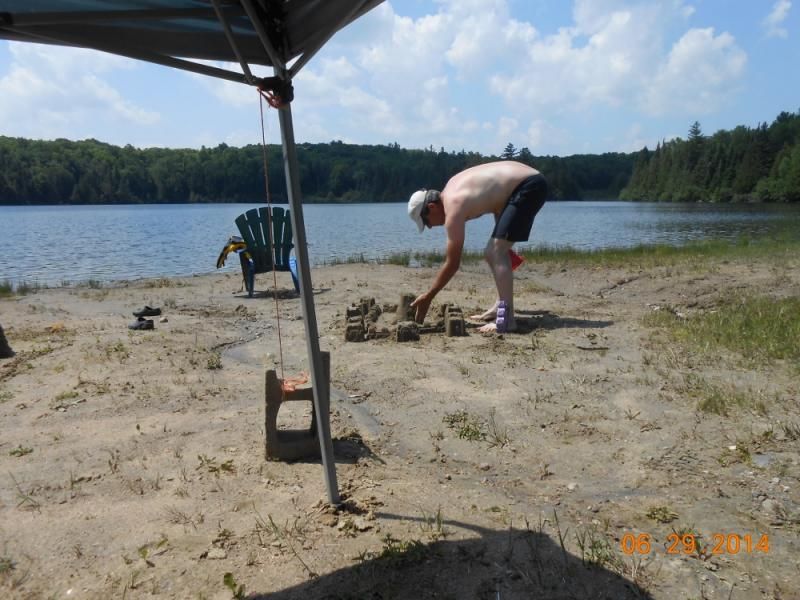 This year they even built Daddy a castle. It was a great competition to see who's castle would be stronger.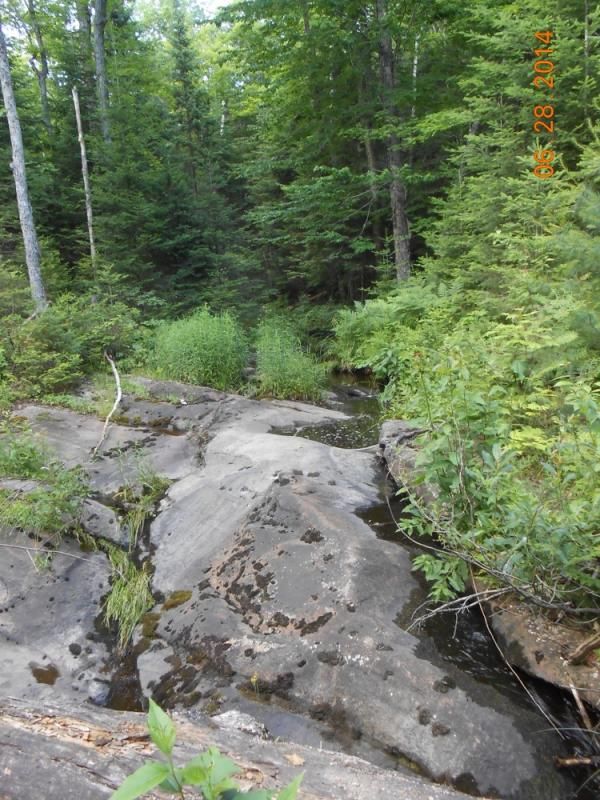 Ella's favourite spot on the way to the beach. This is the Fairies' Pool where all the Fairies play and cool off. We didn't see any of the Fairies, but we did see lots of their dragonfly friends.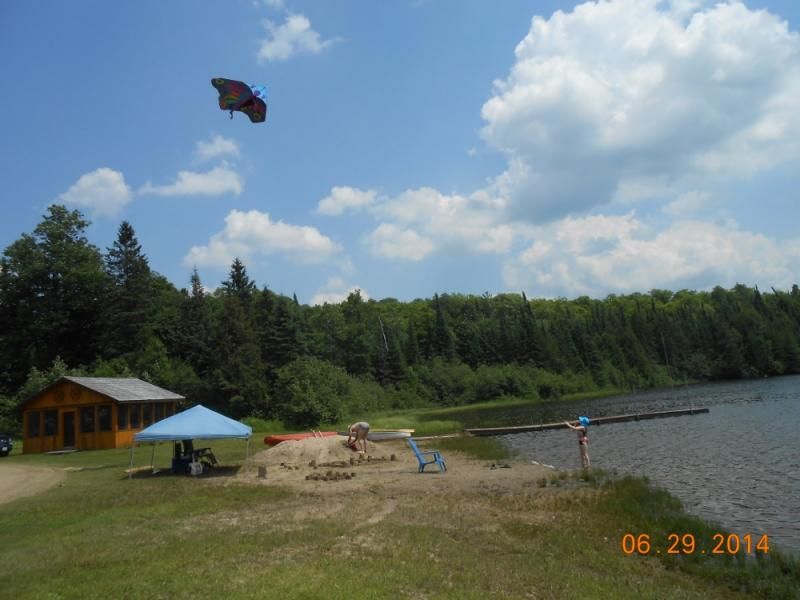 We took Ella's kite along, but it was actually too windy. The kite had to come down after this picture (actually it crashed).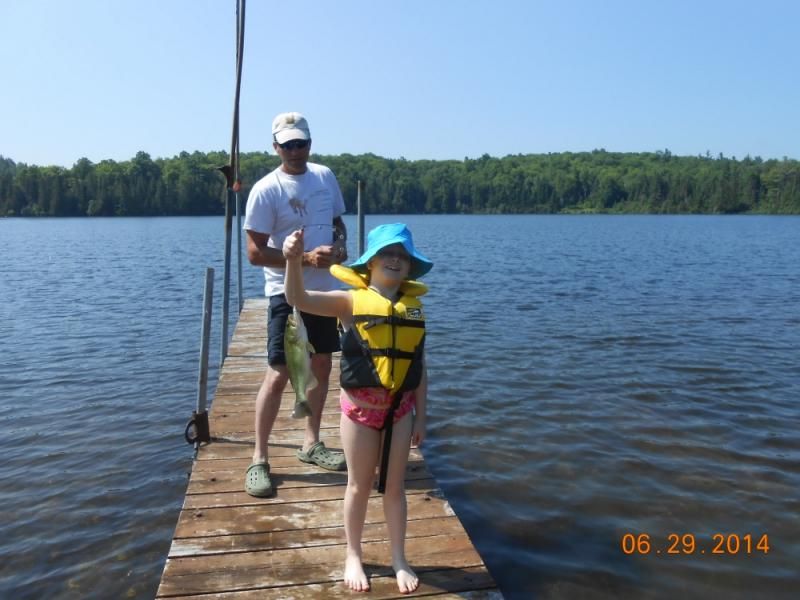 It wasn't long before worms started swimming. This is Ella's first fish.
Fish number 2. There was a third one, but I seem to have lost that picture. To be honest most of Ella's fish were caught on Daddy's line with his spinner lure. The fish just weren't biting with a hook and floater. Ella was getting so discouraged. So Daddy let her land some and since she landed them she gets to count them. Ella did hook a fabulous fish with her pole. It was a really nice 5+lb large mouth bass. We all saw it coming in, but for some reason Ella's pole didn't have a steel leader. Just as it got to the dock and Daddy was reaching for it, guess what, the darn fish broke the line. We were able to save the float but the fish was long gone.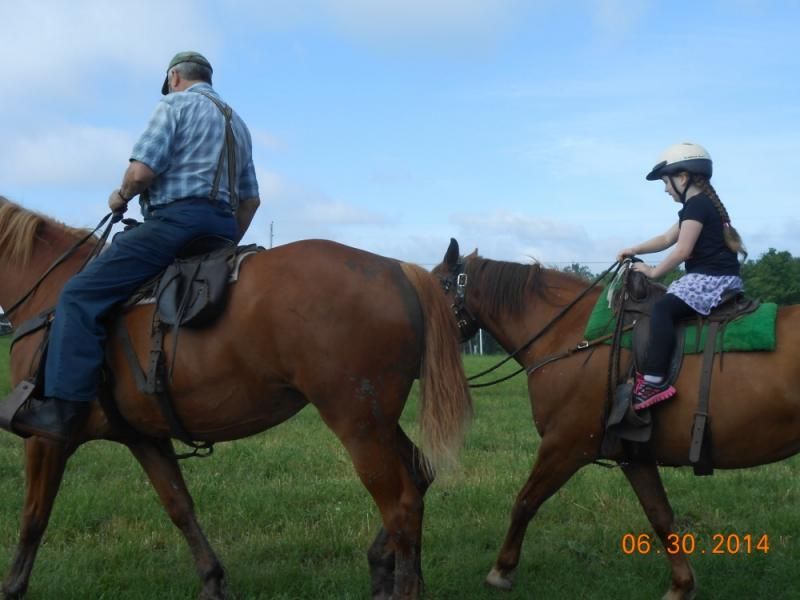 Ella got to go for her first real horse back ride. Before this she was only walked around. Her horse is on a long lead attached to Joe's horse, but she has full control over her horse.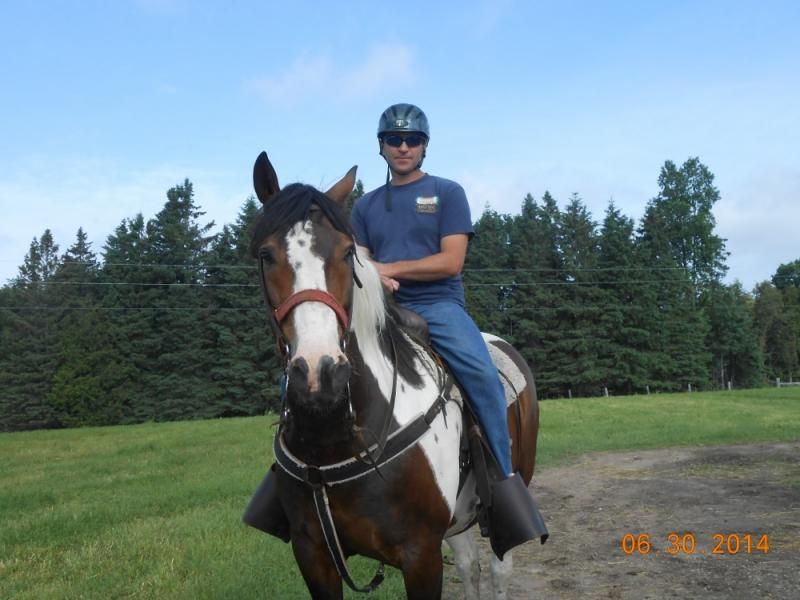 I was so annoyed with myself. I forgot to bring my leggings and running shoes, so Daddy had to go on the ride with her.
Oh yeah, I forgot to tell you that Daddy caught 4 fish himself, including this giant one: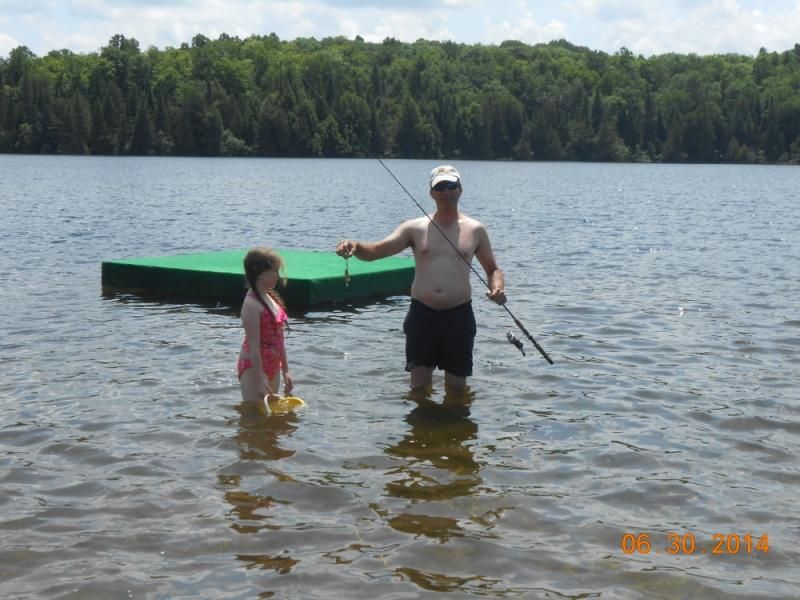 Most of the others were nice size bass and a pike.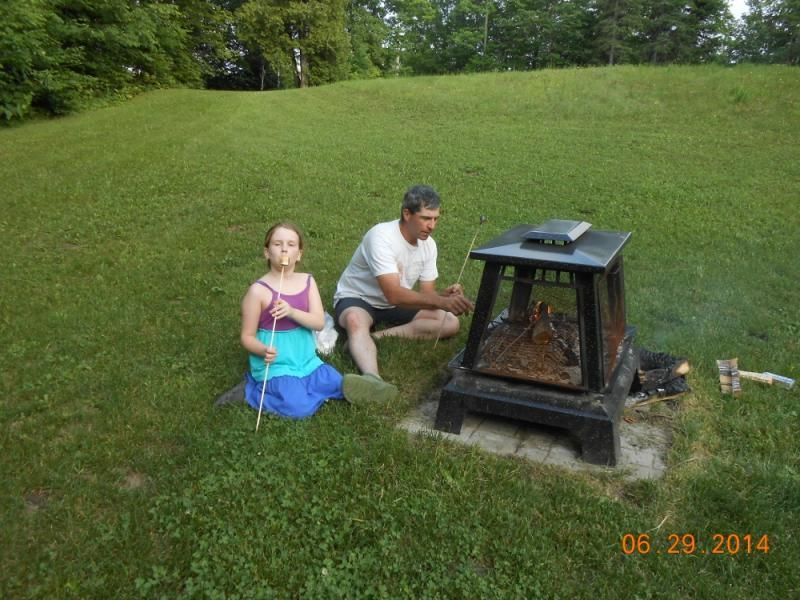 Luckily the wind died down one evening so that Ella and Daddy could roast marshmallows.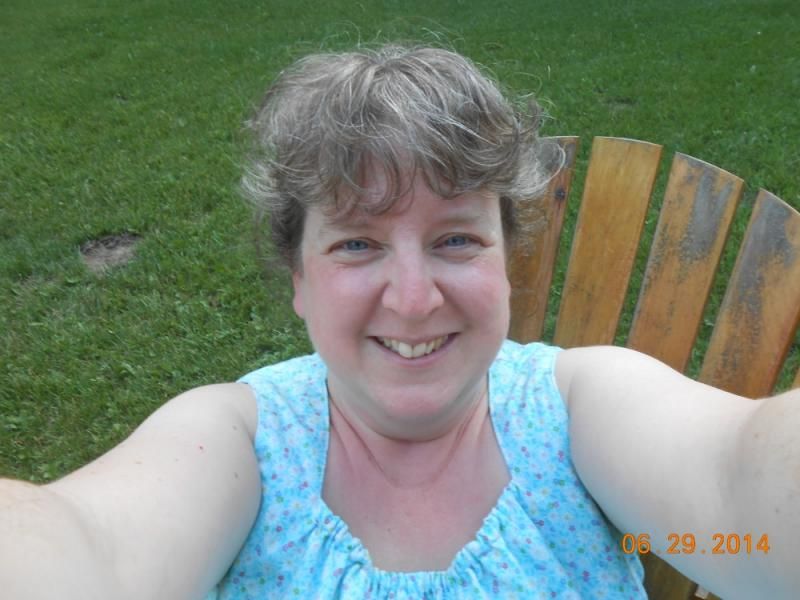 See I was there too :)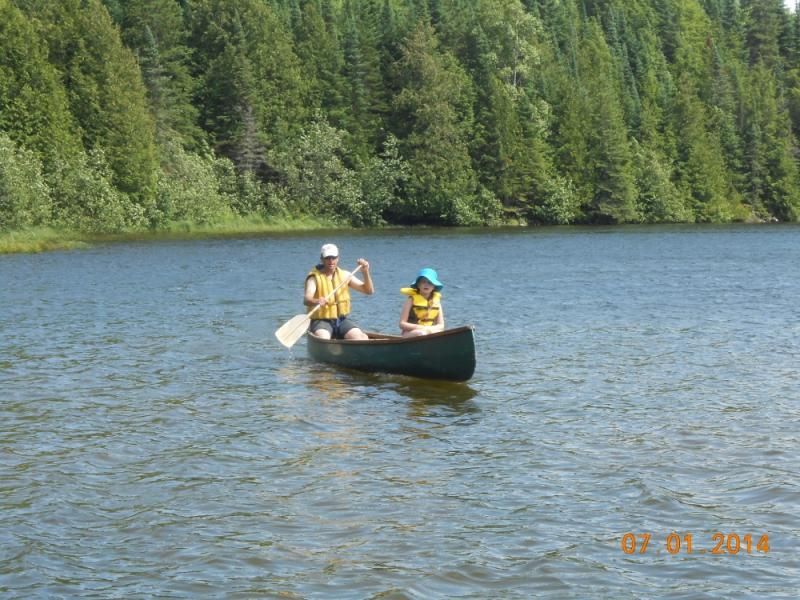 Ella and Daddy took a tour around the lake. She did much better in the boats this year. Last year she lasted about 5 minutes and then was bored with sitting still.
The morning of Canada day we had one heck of a storm go through. We were at the beach and I was watching the clouds rolling in. At the first crack of thunder I packed everyone up and we went back to the cottage. We were barely in the cottage when the skies opened! According to Ella's sand castle bucket, we got about 2 inches of rain in 20 minutes. We also lost power.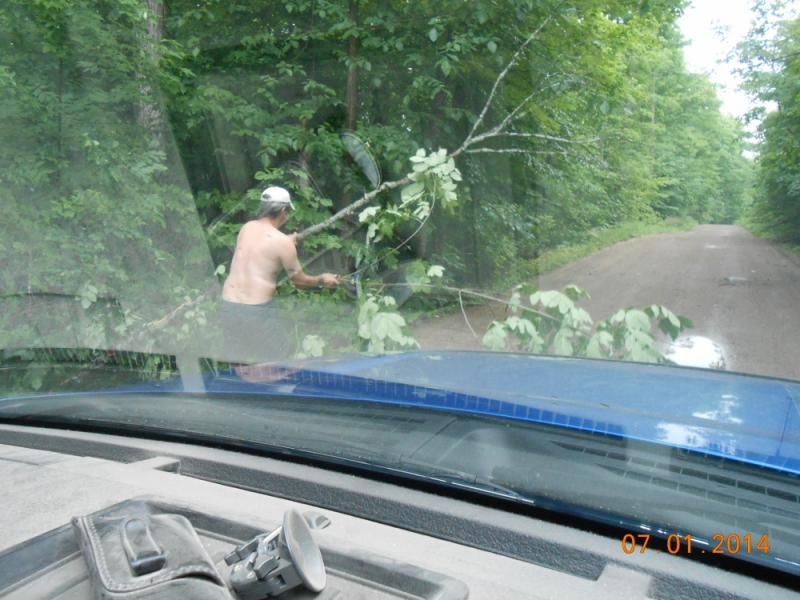 Beautiful clear skies so we headed back to the beach.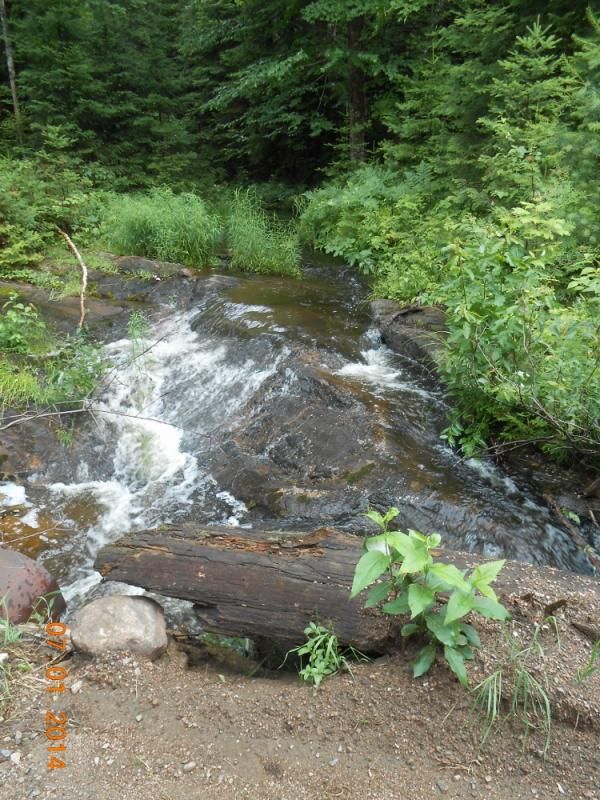 Luckily we stopped on the way to the cottage and warned the fairies about the coming storm. This is the Fairy Pool!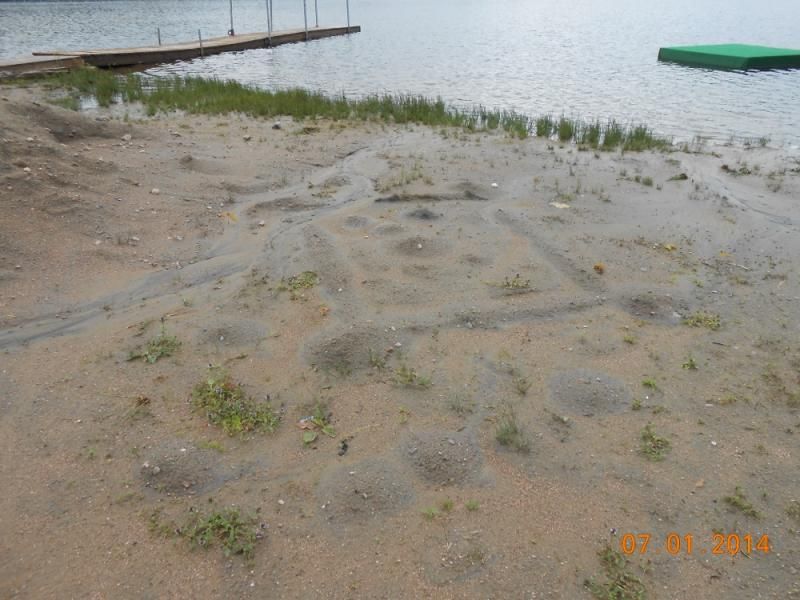 Unfortunately the castles weren't weatherproof.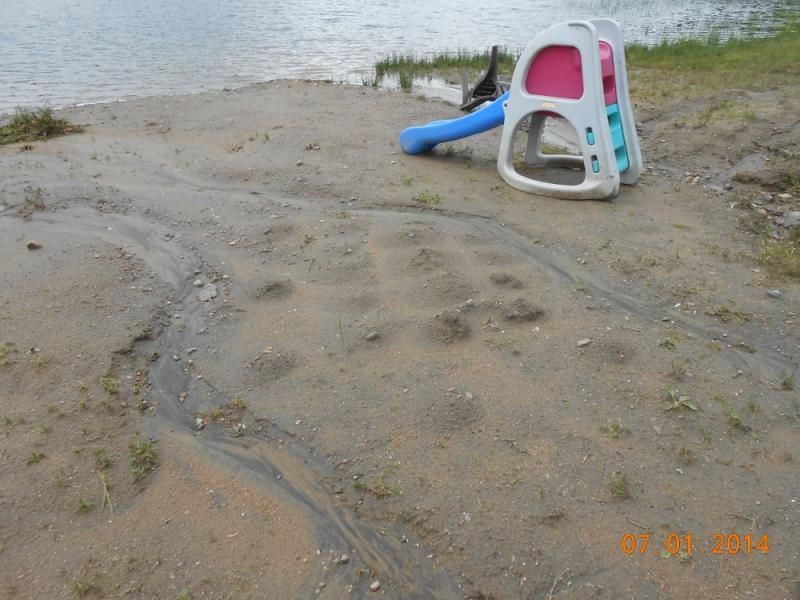 Even though Daddy built between the 'rivers', his castle didn't survive the deluge any better than Ella's.
The good thing about the storm is that it cooled down the air and calmed down the wind. We were trying to prepare Ella for the fact that the fireworks were going to be cancelled. But after the storm the weather was perfect.
After supper (on the BBQ since we still had no power) we headed into Killaloe to stake out a good seat for the fireworks. It's at the Catholic school in town. Ella and Daddy played for a while on the play structures. Then the music started. Her name is Olivia Charette, I hadn't heard of her but she was really good. The high school kids in Killaloe are so different from any others, we've noticed this other years too. They get along so well and dance and have wholesome fun. This year Ella joined them in their dancing in front of the stage. They took Ella right in and made her one of them. They encouraged her to jump into the centre of their circle and dance. One time she jumped in and did some highland -you should have heard the cheer they gave her. One time the broke out into square dancing. You should have seen the 6 ft high school guys bending down to link arms with Ella!
And then the fireworks started!! So much better than last year. Ella stayed awake almost all the way home. When we got back to the cottage the power was back on. The sky was so clear so Colin got out his telescope. Wow! There are so many stars visible because it's so much darker than at home. Then when you look through the telescope there are almost too many stars! It's kind of hard to orient yourself. Colin really needs to get his telescope out more often.