Pretty, Happy, Funny, Real this week is some pictures from our trip to Toronto.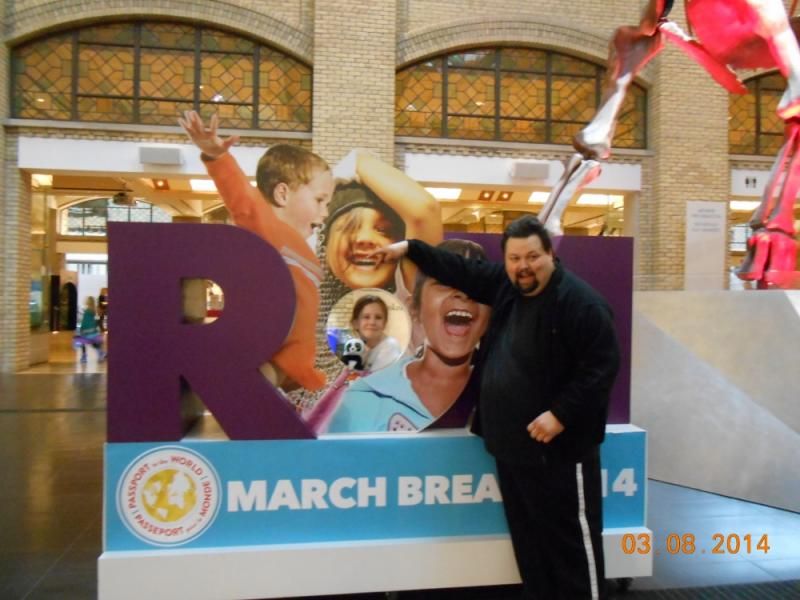 Ella's favourite place to visit in Toronto! Not only does Ella love the dinosaur exhibit at the
Royal Ontario Museum
, but right now they have a very special display. We were very lucky to see the special treasures from China's
Forbidden City
.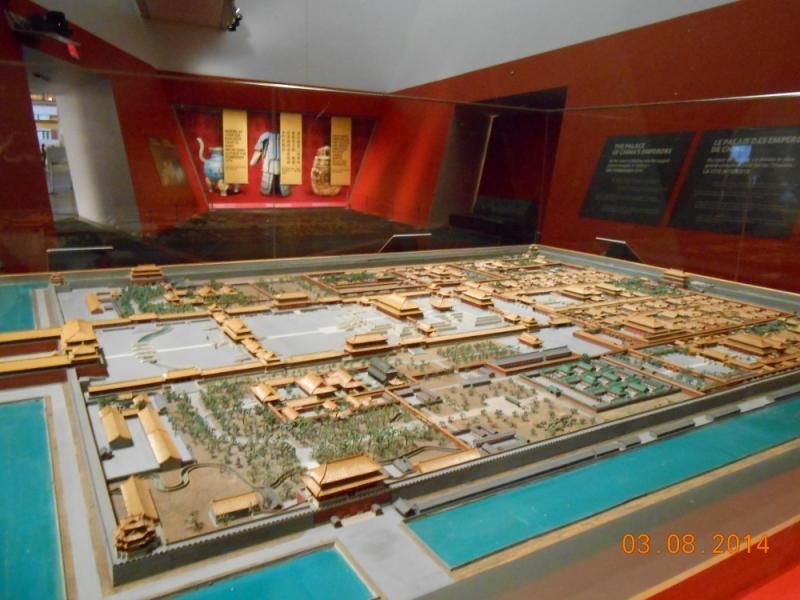 Unfortunately photography wasn't allowed in that section of the museum.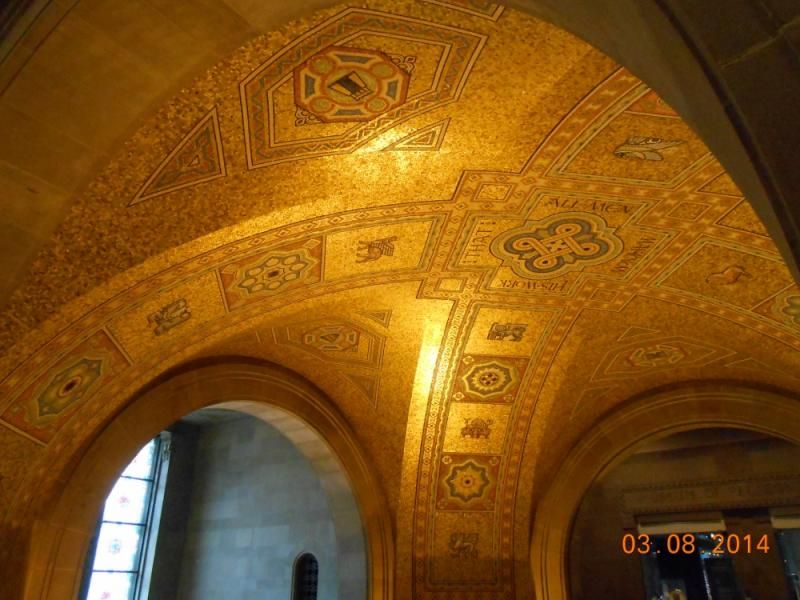 The Museum is so beautiful, this is the ceiling of one of the staircases. Just don't look at the monstrosity they built on the front of the building. Luckily the rest of the building retains its Victorian style splendor.
Momma and Auntie Belinda wanted to go see the Medieval/Europe floor but Ella wanted to see the
dinosaurs
again. Luckily Uncle Stefan took Ella to the dinosaurs so Auntie B and I could enjoy the other exhibit.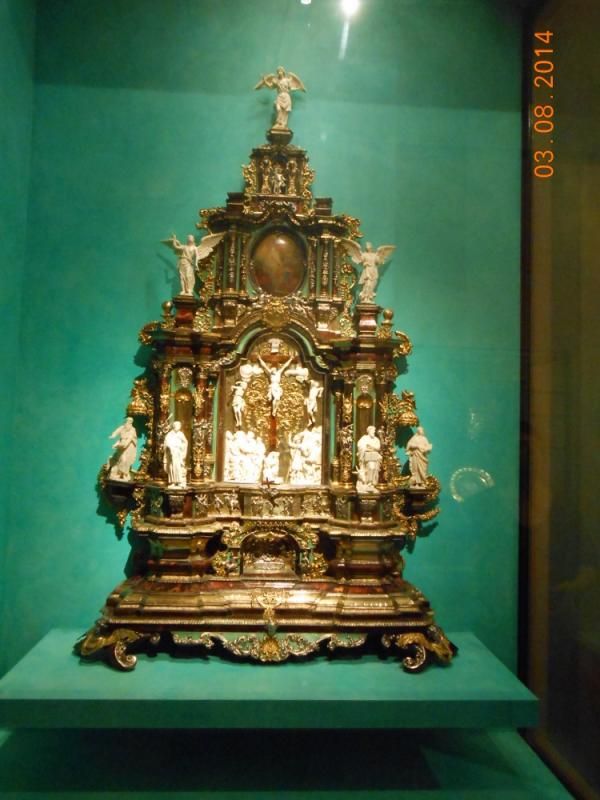 Everything is behind glass. I had a really hard time getting a decent picture. The lights caused too much reflections. Wow, I love medieval things. I really love the big, heavy, dark furniture with the thick 'rope' legs.
Sunday Uncle Stefan had a surprise for Ella. He took us to
Laser Quest
! I've played before when I was at university in London, but we've never taken Ella before. I wasn't sure how she would like it, it's darkish with flashing lights and loud music. They opened the door to the game and woosh! Ella was off! She had so much fun. We played two games which exhausted Momma and Uncle Stefan.
We picked up Grandma and Auntie B and headed for supper. There is a show on the Food Network called '
You Gotta Eat Here
' it's like '
Diners, Drive-ins and Dives
' but the host goes to Canadian restaurants. We went to one place called
Dangerous Dan's
. It's almost downtown Toronto in one of the rougher neighbourhoods. I'm not sure what I thought of the place. The burger was OK, but was
pink
inside and I spent the whole time worrying that we would all get sick. In Canada we usually eat our burgers cooked through. I know what you are thinking 'just ask for it more well done' -not at Dan's. They pride themselves on their rude attitudes and I would be afraid to send anything back. I don't need to be sworn/yelled at. Ella really loved the homemade deep fried perogies. She loved them so much that Uncle Stefan got her another order to take home (which she nibbled on the entire trip back to the farm). And the way the cook/owner treated the staff -made for a very unpleasant meal. I'd be tempted to try again (my sister and BIL like it there)
if
we ordered the burgers better cooked and got it as take-out.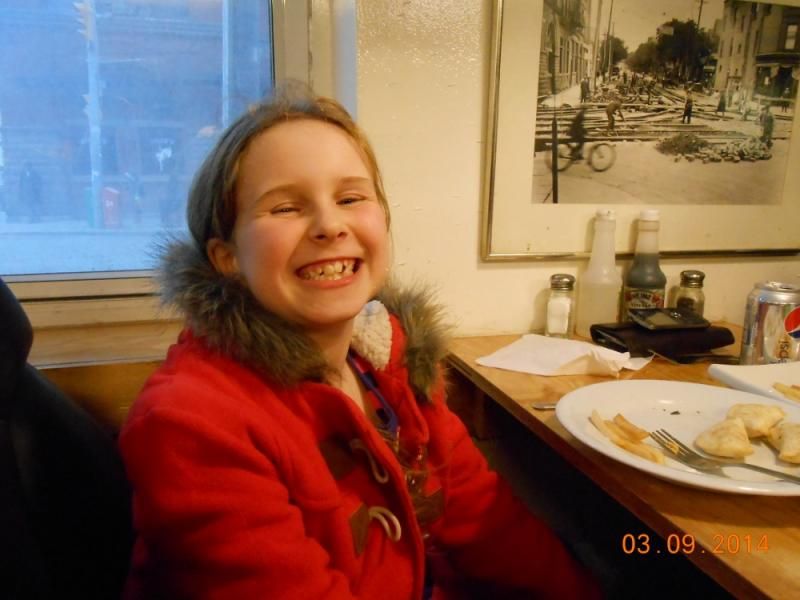 Happy perogie face!