Happy New Year!!
2009 is finally here, for better or worse. We'll be planning for worse and hoping for better, sounds like normal "farmer" thinking -bad crops/weather/etc this year but it'll be better next year :) I'm just glad we have very minimal debt, even the truck will be paid off later this year.
We go home for Christmas every other year. We are the only ones from Mom's family that don't live in my hometown. Christmas day is spent at my Grandma's house, which is just around the corner from the house where
she
was born. There is usually somewhere around 20, depending on boyfriends/in-laws. Ella is lucky to have a Great-Grandma and we try to spend as much time with her as possible.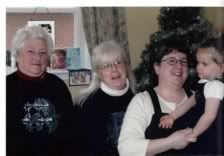 This year was Christmas at Colin's folks, so we went down for New Year's. We had a wonderful trip back home to visit with Mom's family. It took about 5 hours to get down there, but that included 2 stops; so not too bad. New Year's dinner was at my Aunt's house which was nice because I haven't seen her new kitchen before. They did a really nice job. Only some of the family were there, so there were only 14. The rest of the family stopped by off and on over the weekend. It was great because they haven't seen Ella since great-grandma's birthday in July. She sure has changed since then. We were even able to meet up with my girlfriends from school. We went skating. It was Ella's first time. She did really well. I discovered that my feet have changed since the baby and my figure skates do not fit!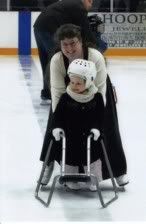 Yesterday was Epiphany, a church date that is largely ignored these days. It's the 12th day of Christmas and the day the 3 wise men visited the Christ child. We don't do much to celebrate, I need to think of some things to do. I take down our Christmas decorations on this day.
It has been snowing all day long. I had to go to Petewawa to return/exchange some presents. I also had to buy some fabric for a smocked dress that I've been asked to make. Sure could have picked a better day. When we got home this afternoon we had about 6 inches of the white fluffy stuff in the yard. I'm glad I don't have to shovel any more. Colin is trying to make a skating rink for Ella but we need it to get much colder. Being that it's January in Eastern Ontario that likely won't be a problem -haha.
I can hear Colin down at the corn stove, so it's time to sign off and get the water started for supper.