Yarn Along
this week, but not too much knitting to share.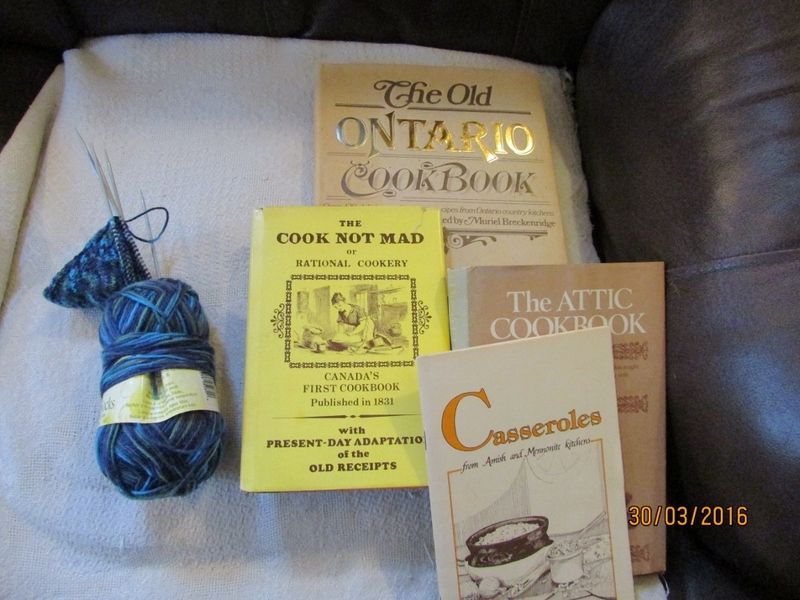 Working on the second
sock
for Grandma. I really dislike doing them one at a time. Though I'm glad I did these ones toe-up. Is Kroy making their balls smaller? There doesn't seem to be as much yardage in these balls and I'm glad Grandma has small feet like mine.
Last Thursday my body was trying to catch a cold, but somehow I fought it off. But Thursday I felt like I'd been run over by a large truck. Sore, tired, and feverish -not conducive to knitting. Didn't feel much better on Friday. So I did some 'new' cookbook reading.
First up is
The Cook Not Mad: Or, Rational Cookery (American Antiquarian Cookbook Collection)
. Pretty cool. It's a reprint from 1831 and calls itself "Canada's First Cookbook". I'm not going to keep this one though. It's so very similar to my
Mrs. Beeton's Book of Household Management: The 1861 Classic with Advice on Cooking, Cleaning, Childrearing, Entertaining, and More
there's no point keeping it (I have limited book space).
Next was a surprise. "Casseroles from Amish and Mennonite Kitchens" by Phyllis Pellman Good. This is just a little booklet (32 pages) but has enough yummy sounding dishes that I'll keep it.
The Attic Cookbook by Wilkinson, Gertrude (1972) Hardcover
has some interesting recipes. I'll hang onto it for now and give them a try. Not sure if this one is a 'keeper' though.
Lastly,
The old Ontario cookbook: Over 420 delicious and authentic recipes from Ontario country kitchens
I'll keep. I love actual
ONTARIO
cookbooks and lots of the recipes are actual old family recipes from the author. Also has lots of yummy things to try.
All in all, not a bad way to spend a couple of crummy feeling days.