Wow,
Yarn Along
post being written at 7:30 -even before Ginny!
I've been fighting off Ella's cold -gotta love Guide camp, right?? Mostly just stuffy but oh so tired! Decided to just do some plain knitting.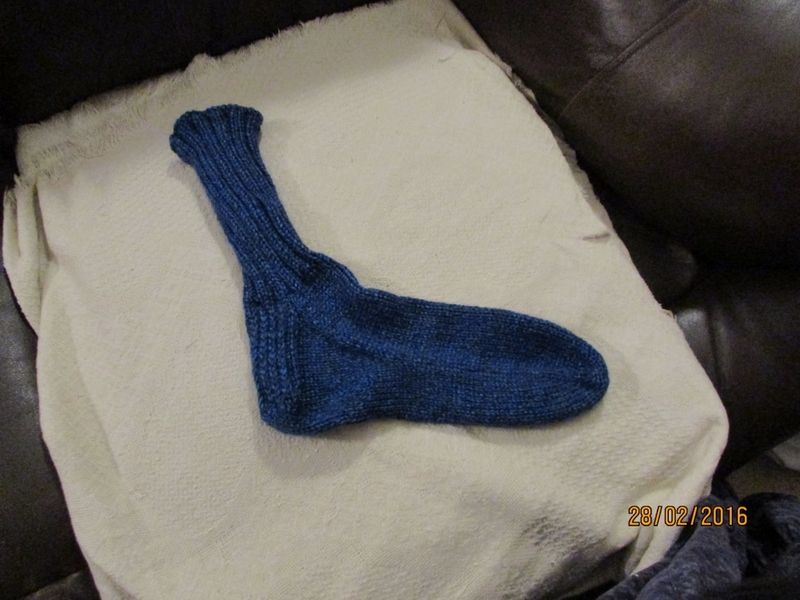 So I made Daddy a pair of
plain socks
. I make him plain and fancy so he can tell which ones are only for house wear (he can't tell the difference between cheap yarn and the more expensive stuff). This yarn is really nice and quite cheap at Michael's. It's a nice big ball and even socks this big only took 1 ball!
Since I had another ball left (always buy two balls when planning on Colin socks) I decided to whip
Grandma
up a pair too. There's a little less knitting in Grandma's socks -ha ha! It's the same toe-up formula. I'm amazed at how that formula works for fine 'sock yarn' sized sock yarn AND for this much thicker aran sized yarn.
I actually have a new book this week! It's
From the Mouth of Ma: A Search for Caroline Quiner Ingalls
. It's a lot smaller than I was expecting. I forgot to read the description to see how many pages. It was a little pricey for it's size. I just hope it's worth the money.
Well, Ginny's still not posted her Yarn Along. So I'll post this one then link up later. Happy knitting!