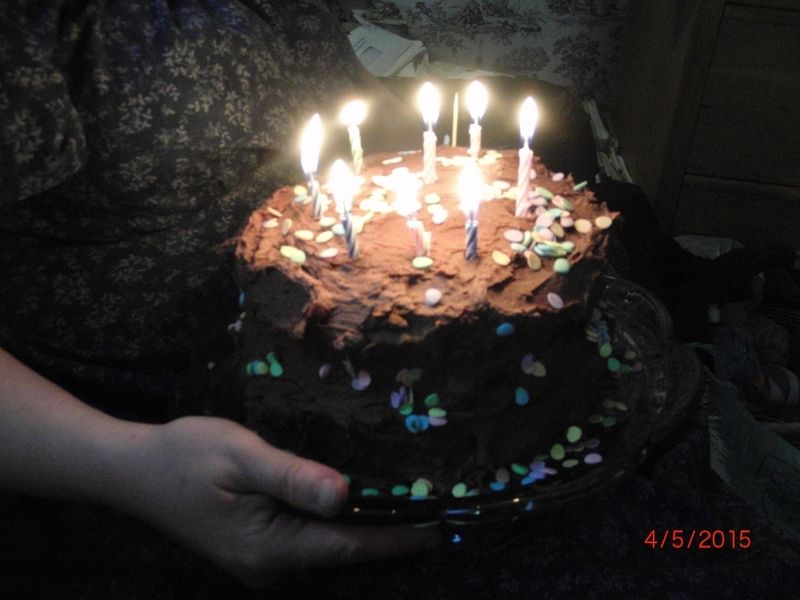 Last week we got Ella's allergy results. She was very worried about having anything good to eat. And of course, to Ella that means chocolate cake and chocolate chip cookies. Little did she know about Depression or wacky cakes. They don't need milk, butter or eggs. And since we have the vegan margarine, it's easy to make Ella-safe icing. Ella iced my birthday cake yesterday. I'm not sure how, but the cake layers seemed to be 2 different sizes even though the pans were both 8 inch?? She did a great job with the icing.
Thanks for all the allergy support. I'm lucky that one of my friends has an even longer allergy list. She gave me 10 different cook books to look through. The vegan ones are kind of handy since they won't use dairy or eggs. It's too bad the allergy books are mostly gluten free. I'll have to try using those with regular flour. I'm not taking another entire food group out of Ella's diet if I don't have too. That and I don't want to have to buy a bunch of extra flours. Hopefully they will work with a basic exchange.
More about Ella's list of allergens:
Milk -avoid - casein, cheddar, cottage cheese, cow's milk, whey probably avoid - goats' milk, mozzarella, Swiss
Eggs -avoid - whites and yolks (apparently most people are only allergic to one or the other)
Beef -is a probably avoid, so it's part of the elimination diet for now
Citrus -avoid -lemon, orange probably avoid -pineapple, grapefruit and banana (I know it's not a citrus but it's fruit)
Surprisingly, the citrus is hard to avoid. We don't eat much of the actual fruit, but it's in a lot of the vegan/vegetarian recipes. Guess they have to replace the yummy butter and meat with something -ha ha!
Reading the report Ella goes "aw, I'm not allergic to tomatoes" -as if I make her eat tomatoes! Ella and Daddy both hate tomatoes and would rather starve than eat them (sauce and ketchup excluded).
I am being very strict and we're avoiding everything listed above. I'm hoping that at the end of the 3 weeks when we start introducing foods again we can be a little less strict. I'm really hoping she'll be OK with butter (or at least clarified butter) and beef. It would be helpful if she could tolerate an egg (baked in something) once in a while. A lot of our favourite cookie recipes need eggs.
But if not, we'll manage. Like I told Ella when she was diagnosed, she's lucky. I already make basically all our food. We don't buy 'food' in boxes from the store. We buy ingredients. So she's not really going to have to give up many of her favourite foods. I just have to adjust the way I make them. Also, I found some where local that sells non-dairy cheese. Hopefully she will like it because she's already missing grilled cheese.