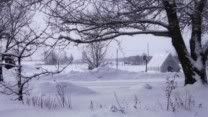 It's been snowing since yesterday morning. At least the snow means it is much warmer. No more freezing skin warnings on the radio. Still didn't stop the barn cleaner from freezing again. Quiet day at church. Not too many come out when it's Morning Prayer, even fewer in bad weather.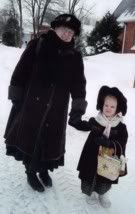 Ella likes playing with my hats. I think she looks adorable.

Busy today weighing and priceing the frozen cuts of pork that came back from the butcher this morning. We sell the pork on the farm. It sure helps put groceries on the table, considering the current market price that the packers are paying.